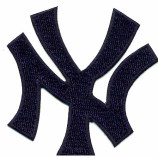 On behalf of the New York Yankees, HOK Sports Architecture, Tishman Speyer Properties and United Spinal Association, I want to thank everyone that participated with our three Yankee Task Groups.
We look forward to seeing you at our next meeting, which is scheduled for Friday, November 17, 2006 from 1 PM to 3 PM at the Yankee Club within Yankee Stadium. We plan to discuss the issues brought to our attention during our Yankee Task Group conference calls, relating to Transportation to/from the new stadium, Accessible Accommodations, and Communication & Graphic Design Features, as well as other pertinent issues impacting accessibility at the new Yankee Stadium.
Please contact Linda Volpe at (518) 945-1606 if you wish to attend or if you need any accommodations at the meeting.