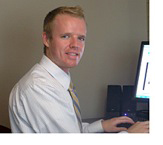 Accessibility Services is proud to announce the addition of Jimmy J. Zuehl to the Accessibility Services staff.
Jimmy has been working in the field of architecture for over 10 years and has been active in the process of architecture throughout his career and has seen the completion of numerous projects, including projects in New York City. His experience ranges from single family custom residential homes to unique mixed use large scale suburban and urban complexes.
As our Architectural Specialist, Mr. Zuehl brings important expertise and knowledge about the process of architecture including design, architectural documentation and construction administration. He is also proficient in AutoCAD versions 14 to 2009.
His duties at United Spinal Association include accessibility training, technical assistance, plan review, site assessments, accessibility design and code development.
Mr. Zuehl has a Bachelor of Architecture from the San Diego New School of Architecture and Design. He also holds a minor in Urban Studies.
Jimmy can be reached at jzuehl@unitedspinal.org