As most facility managers know, each restaurant or other food service establishment on a site must have at least 5% of the seating and standing spaces at the dining surfaces in compliance with Section 902 of the 2010 ADA Standards (5% was required in the 1991 ADA Standards as well). However, during many of Accessibility Service reviews of malls, restaurants, assembly areas, and hotels, we find tables that are not accessible to wheelchair users.
The violation is not generally the height of the table or dining surface, which is required to be between 28 to 34 inches. The violations tend to be the clearance under the dining surface. Accessible tables and eating counters must provide 27 inch high knee space that is at least 19″ deep and 30 inches wide.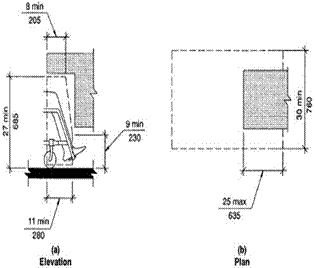 Toe clearance under the table or counter between the finish floor or ground and 9 inches above the finish floor or ground is also required. Toe clearance shall extend 25 inches maximum and 17 inches minimum under the table. Width of the toe clearance must be 30 inches.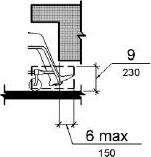 Keep these requirements in mind when furnishing a restaurant, food court, cafeteria or other areas that have dining tables and counters.