Update: Accessibility and Places of Assembly
No matter what program the general public gathers for, whether it be a sporting event, a concert, a theatrical performance, or a boat show, the Americans With Disabilities Act of 1990 (ADA) requires that it be accessible to all people, including those with physical disabilities. During the early 1990's, a number of places of assembly were designed and constructed in violation of the ADA. Several lawsuits were filed addressing issues ranging from lines of sight over standing spectators, to integration of wheelchair seating locations throughout the facility, to the accessibility of bathrooms in luxury suites. Over the past ten years, as the aforementioned issues have been addressed by the Courts and the Department of Justice (DOJ), architects and facility owners have become educated on the accessible construction and policy requirements for places of assembly. As the revised ADAAG (Americans with Disabilities Act Accessibility Guidelines) is now finished, and numerous revisions to the federal and model access codes have evolved over the past twelve years, its time once again for advocates, designers and enforcement officials to re-visit the somewhat complex issue of how to provide access for people with disabilities at new and renovated places of assembly.
In terms of enforcement of these regulations, remember that while the ADA is a federal law governing access for people with disabilities, it is not enforced locally. The ADA is enforced by the general public via complaints filed with DOJ. Thus, when permits are issued and construction begins in cities and towns across America, the local code official is not ensuring compliance with the ADA. However, local access codes, i.e. model building codes, are enforced by the code official charged with ensuring code compliance.
What accessibility standard is applicable?
As in so many technical documents, the devil is in the details. In a planned alteration to an existing place of assembly – or new construction – it is important to consider all applicable accessibility codes, i.e. ADAAG, UFAS (Uniform Federal Accessibility Standards), the Building Code and the reference standard (such as) ANSI A117.1, as well as the revised ADA/ABA Accessibility Guidelines. In terms of applicability, the Uniform Federal Accessibility Standard (UFAS) is applicable to venues that receive federal funding; the original ADAAG is still applicable to venues that are owned/operated by municipalities as well as private owners; the revised ADA/ABA Accessibility Guidelines will soon replace the original ADAAG and will offer different requirements in key areas of the stadium and arena (e.g., public toiletrooms, wheelchair seating location information, etc.); and finally ICC ANSI A117.1, the accessibility reference standard that is adopted by jurisdictions that reference the International Building Code (IBC). The good news is that significant strides have been made to "harmonize" the 2003 version of A117.1 with the revised ADA/ABA Accessibility Guidelines.
While there are many accessibility requirements that impact places of assembly, below are some of the highlights of revisions to existing ADAAG and/or the model codes:
Wheelchair Viewing Locations – Accessible routes shall be provided to wheelchair viewing locations and all other public locations (i.e., restaurants, etc.) within the stadium. In the ICC ANSI A117.1 and new ADA/ABA Accessibility Guidelines, access to any wheelchair space shall not be through another wheelchair space. Wheelchair spaces shall not overlap circulation paths. Remember that state and federal accessibility requirements will require that wheelchair-viewing locations be dispersed when there are more than 300 seats in a place of assembly. Wheelchair spaces shall be dispersed horizontally and vertically and to spaces like suites and luxury boxes. How many wheelchair-viewing locations are required? You can find this information in the IBC via a chart that has been harmonized with the revised ADA/ABA Accessibility Guidelines.
The revised ADA/ABA Accessibility Guidelines will require that the companion seat be provided next to each required wheelchair space. Individuals seated in companion seats shall be seated in the same row and shoulder-to-shoulder with the wheelchair user seated in the adjacent space.
Removable or folding armrests or no armrests shall be provided on the aisle side of designated aisle seats. Each such seat shall be identified by a sign or marker. Aisle seats are required to be near – but not on – an accessible route.
Lines of Sight Over Heads – One of the most significant requirements of ADAAG is that wheelchair viewing locations required within a newly constructed arena or stadium are required to be afforded with a line of sight to the playing surface over spectators who might stand in front of them. From the Department of Justices original technical bulletin on this requirement in 1994, the requirement to provide spectators seated in wheelchair space locations lines of sight over the heads of standing individuals in the first row in front of the wheelchair space location have been greatly refined. Going farther than the revised ADA/ABA Accessibility Guidelines, ICC ANSI A117.1 – 2003 now defines distance from adjacent seating and riser height as part of a formula to determine lines of sight over standing spectators.
Public Toiletrooms – Where fixtures are provided in a toilet room, at least one of each type shall be accessible. More and more, venues are providing unisex or "family" toiletrooms for the convenience and privacy of fans with mobility impairments. In fact, the IBC requires that assembly areas that have an aggregate of 6 or more male and female water closets provide an additional unisex toilet room not more than one floor above or below the public toiletrooms.
Provisions for Individuals with Hearing Disabilities – Unlike the original ADAAG that triggered Assistive Listening Devices (ALD's) in places of assembly with 50 or more fixed seats, the revised ADA/ABA Accessibility Guidelines requires an assistive listening system in each assembly area where audible communication is integral to the use of the space. The number of receivers required is now based on the number of fixed seating available and the required number of ALD's is lower than the number required in current ADAAG. Additionally, where stadiums, arenas and grandstands provide audible public announcements, equivalent text information regarding events and facilities is required by the IBC and the revised ADA/ABA Accessibility Guidelines. Prerecorded text messages or real-time messaging are two ways to provide this equivalency.
Conclusion
When it comes to our built environment, most able-bodied individuals look at building codes and standards as a necessity to keep the public safe. These standards prevent facilities from collapsing and ensure that the bleachers we sit on can support the weight of the crowds in attendance at a soccer game. To someone with a disability, building codes and standards must also dictate access, which serves as a very important link to independence. While the ADA is the most comprehensive law ever passed to protect the civil rights of individuals with disabilities, ADAAG and the model codes discussed in this update are key factors necessary for an accessible society that accommodates individuals with disabilities. Should you have any questions about which accessibility code or regulation is applicable at a place of assembly, please don't hesitate to contact us at 1-800-807-0190.

New Publication Offering Fire Safety Tips
For Persons with Disabilities well-received at National Fire Training Academy
The United Spinal Association, a national veterans service and disability rights organization, has updated a pamphlet that provides important information for persons with disabilities on fire safety. Fire Safety For Wheelchair Users at Work and at Home was distributed to Fire Marshall's from around the United States during their annual Prevention Advocacy Resources and Data Exchange (PARADE) conference held at the National Fire Training Academy in Emmitsburg, MD on November 6th.
In addition to discussing the brochure with the Fire Marshall's that attended the 4 – 90 minute sessions, the latest Life Safety requirements designed to assist people with disabilities safely evacuate buildings were reviewed, including the installation requirements for visible alarms, the use of elevators and wider exit stairs as a means of accessible egress, areas of refuge and above-grade fire-rated safe areas at the exterior of a building.
"Fire Marshall's need to understand the needs of people with disabilities when evacuating them from buildings," Robert Drexler, Fire Marshall, Town of Greece, said. "We need to be able to work with Building Owners and Managers in our communities so that we can establish better evacuation plans for their employees with disabilities."
Fire Safety For Wheelchair Users at Work and at Home covers in detail such topics as fire safety protocols and procedures, home evacuation for individuals with mobility impairments and steps for before a fire occurs. The U.S. Census Bureau estimates that there are more than 21.2 million people who have mobility impairments and the training offered by United Spinal is designed to provide the information needed to navigate the numerous codes and standards that govern accessibility. Certified instructors visit firms and provide help with the latest code requirements and federal and state accessibility requirements.
The Brochure targets:
• Persons who use wheelchairs or who have other mobility impairments
• Fire, Safety, and building code officials
• Emergency plan coordinators
• Building owners and managers
• Employers and supervisors
• Office fire marshals
Some Topics Covered with Training:
• Overview of State & Federal Accessibility Requirements
• Problem Application Areas such as exterior/interior accessible routes and toilet & bathing facilities
• Existing Buildings: Alterations, changes of occupancy/conversions and so on.
• Life safety issues: Areas of refuge, means of exiting elevators, and exterior areas of assisted areas to name a few
Fire Marshall's from as far away as Anchorage, Alaska have requested additional copies of Fire Safety For Wheelchair Users at Work and at Home for distribution in their communities. The brochure can be obtained by calling the Association's publications request line at 1-800-444-0120, or can be ordered online at www.unitedspinal.org.

Technical Stuff
Question:
Kitchens in accessible dwelling units are classified as "Galley" and "U-Shaped", with 40 inches (1015 mm) clearance between cabinets required in the galley and 60 inches clearance required in the U-shaped kitchen.
New York City provides the following example of an accessible kitchen, with cabinets and appliances on two sides and a blank wall at one end. Isn't this a U-shaped kitchen?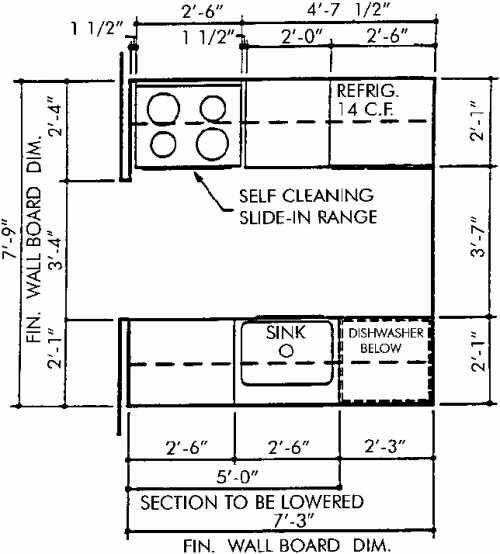 Answer:
New York City references ANSI A117.1-1986, which requires a 60 inch clearance in a U-shaped kitchen, but never says what constitutes a U-shape (the 1992 edition of the standard does the same).
The 2000 and 2003 editions of the ICC International Building Code reference ICC/ANSI A117.1-1998. That edition of the standard states:
1002.12.1.2 U-Shaped. In [fusion_builder_container hundred_percent="yes" overflow="visible"][fusion_builder_row][fusion_builder_column type="1_1″ background_position="left top" background_color="" border_size="" border_color="" border_style="solid" spacing="yes" background_image="" background_repeat="no-repeat" padding="" margin_top="0px" margin_bottom="0px" class="" id="" animation_type="" animation_speed="0.3″ animation_direction="left" hide_on_mobile="no" center_content="no" min_height="none"][Type A] kitchens with counters, appliances, or cabinets on three contiguous sides, clearance between all opposing base cabinets, countertops, appliances, or walls within kitchen work areas shall be 60 inches (1525 mm) minimum.
Because the New York City example does not have "…counters, appliances, or cabinets on three contiguous sides…" it is not regulated as a U-shaped kitchen, though the blank end-wall would seems to made it functionally U-shaped.
In the new ICC/ANSI A117.1-2003 (referenced in the 2004 Supplement of the IBC), the requirement for kitchens in dwelling units remains the same. However, for kitchens in other than Type A or Type B dwelling units or sleeping units, the 2003 standard states:
804.2.2 U-Shaped Areas. In kitchens enclosed on three contiguous sides, clearance between all opposing base cabinets, countertops, appliances, or walls within kitchen work areas shall be 60 inches (1525 mm) minimum [emphasis added].
Thus, in kitchen in fully accessible dwelling units, sleeping units, or commercial occupancies, a minimum 60 inches clearance will be required, even if only a blank wall exists on an end.
Finally, the federal Fair Housing Amendments Act Accessibility Guidelines consider a kitchen U-shaped only when there is a sink, range or cooktop at the base of the U. In other words, having just cabinetry or a countertop at the base would make it a galley kitchen with a 40 inch clearance permitted. Note that the IBC and ICC/ANSI A117.1 are more restrictive in this case, and that compliance with the IBC will constitute compliance with Fair Housing on this issue.
[/fusion_builder_column][/fusion_builder_row][/fusion_builder_container]