2003 International Building Code declared Safe Harbor by HUD
By John Rooney
Compliance Specialist
The U.S. Department of Housing and Urban Development (HUD) decided the 2003 International Building (IBC) code "meets and exceeds" the Fair Housing Act's (FHA) accessibility requirements. This will be a relief to architects who can be assured that their designs for multi-family housing projects are in compliance with the 2003 IBC and that they will not violate the FHA. As a condition for granting safe harbor status HUD has required that the International Code Council publish the following statement:
ICC interprets Section 1104.1, and specifically, the Exception to Section 1104.1, to be read together with Section 1107.4, and that the Code requires an accessible pedestrian route from site arrival points to accessible building entrances, unless site impracticality applies. Exception 1 to Section 1107.4 is not applicable to site arrival points for any Type B dwelling units because site impracticality is addressed under Section 1107.7.
HUD required this statement in order to clarify that site arrival points are required to be served by an accessible route under FHA requirements. Section 1104.1 of the 2003 IBC includes an exception that states: an accessible route shall not be required between site arrival points and the building or facility entrance if the only means of access between them is a vehicular way not providing for pedestrian access. A HUD Task Force that reviewed the 2003 IBC in order to determine safe harbor status was concerned that the exception to Section 1104.1 would result in designs that would not provide accessible routes from site arrival points regardless of terrain. The Task Force believed this would be a clear violation of FHA requirements.
In response to HUD'S draft report ICC issued a response to this concern that highlighted Section 102.1 of the 2003 IBC. Section 102.1 states:
Where, in any specific case, different sections of this code specify different materials, methods of construction or other requirements, the most restrictive shall govern. Where there is conflict between a general requirement and a specific requirement, the specific requirement shall be applicable.
ICC proposed that this section would ensure that site arrival points serving covered multifamily dwelling entrances would be provided unless there was site impracticality as addressed in Section 1107.7.4. Based on this assurance, HUD determined that the 2003 IBC is a safe harbor, however in order to ensure compliance they wanted further clarification and required the aforementioned statement.
HUD and ICC are working to determine if the 2006 IBC which is currently being developed will be granted safe harbor status. Please visit www.hud.gov/offices/fheo/disabilities/modelcodes to see the final report of the HUD review of the 2003 IBC.
Professional Accessibility Training Programs – Coming to your neighborhood!
By Jennifer DePaul
Compliance Specialist
The United Spinal Association is a not for profit organization that is a qualified registered provider of continuing education for several organizations, including the American Institute of Architects (AIA) and the International Codes Council (ICC). Our goal is to provide training on the latest federal and state accessibility requirements to design professionals and code enforcement officials throughout the country.
United Spinal's staff has the following qualifications, which make us unique when compared to other continuing education providers:
Certified by the International Codes Council (ICC) as Accessibility Specialists/Plans Examiners. Also Registered Providers of Continuing Education with AIA.
Members of the A117.1 Accredited Standards Committee that develops the barrier-free design requirements referenced by the International Building Code (IBC).

Members of the Americans with Disabilities Act Accessibility Guidelines (ADAAG) Federal Advisory Committee that worked to ensure a degree of harmonization between the revised ADA/ABA Accessibility Guidelines and ICC ANSI A117.1 that the IBC references.

Members of the American Institute of Architects (AIA) on staff whose primary practice is designing accessible facilities while applying state and federal accessibility standards.

Training experience includes cooperation with the following AIA Chapters: New York City; New York State; New Jersey; Washington DC; Richmond; Detroit; Pittsburgh; Philadelphia; Boston; Kansas City; Connecticut, etc…
Throughout 2005, United Spinal Association's Accessibility Services Program is planning a number of accessibility training programs that qualify for continuing education credits for members of AIA and ICC. Most training programs highlight the revised ADA/ABA Accessibility guidelines, finalized in July, 2004, and the harmonization with the 2003 International Building Code/ ICC ANSI A117. For AIA members, our Continuing Education Credits are applicable towards HSW credits needed to maintain licensure. Attendees benefit from learning how accessibility requirements apply to exterior/interior accessible routes; entrances; options for vertical accessibility; toilet and bathing facilities and the session concludes with an overview of how these rules apply to residential occupancies, existing structures and special occupancies.
A power point presentation is used that is tailored to the needs of the audience, i.e., the presentation includes an explanation of how local/state accessibility requirements might differ from federal accessibility requirements. Several handouts are distributed, including a copy of United Spinal Association's publication, Barrier Free Design: Selected Federal Laws and Accessibility Guidelines (which includes ADAAG and the Fair Housing Amendments Act Accessibility Guidelines). A copy of the power point presentation is also made available to attendees.
This year we have received funding assistance from several sources, including: the ADA & IT Information Center for the Mid-Atlantic Region, the Northeast ADA & IT Center and the Great Lakes ADA Accessible IT Center. This funding assistance allows us to reach design and code professionals in new markets outside of our typical training area. Upcoming locations include: Pennsylvania, New York State, Manhattan, Cleveland, Maryland, Charlotte, NC, Asheville, NC, Raleigh, NC, Wilmington, NC, St. Louis, Missouri, Savannah, GA, South Dakota and Memphis.
For specific information on upcoming training dates and locations, please visit www.unitedspinal.org/aa or contact Jennifer DePaul, Compliance Specialist, at 1-800-807-0190.
2003 But can we use them?
Proposed Residential Bathroom Requirements in NY City's new Building Code
by Dominic Marinelli
Director, Accessibility Services
The background
As Compliance Specialist, Linda Gutmann explained in last December's Orbit, New York City's 17 year-old accessibility requirements (Local Law 58) will be replaced when the City adopts the International Building Code (IBC). However, the IBC only requires that 2% of the units in newly constructed apartment buildings that have 21 or more units comply with the adaptability requirements that New Yorker's with disabilities had enjoyed under LL 58's accessibility standard ANSI A117.1 – 1986.
These apartments are called Type A units.
The balance of the units are required to be Type B. The requirements for these units are merely intended to comply with the requirements set forth by the Federal Fair Housing Amendments Act's Accessibility Guidelines. These units offer less accessibility then a Type A throughout the apartment, but individuals using wheelchairs will especially feel the square footage pinch in the bathroom.
To make matters even more complicated, LL 58 has incorporated variances from strict compliance with LL 58's accessibility standard ANSI A117.1 – 1986. These variances are known as Technical Policy Procedure Notices (TPPNs). In several instances the TPPN's require a design that is below what is required by the Fair Housing Accessibility Guidelines. This means that many apartments in New York City were built in violation of federal law.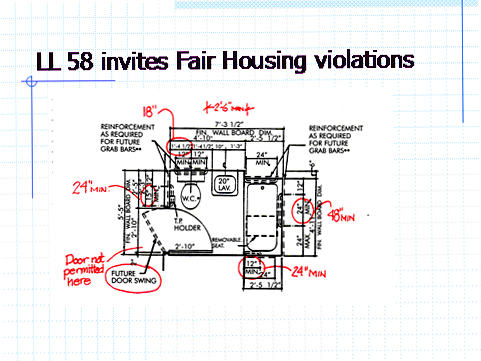 The problem
Due to the high expense and limited space available in New York City, association's representing the city's realtors (REBNY – Real Estate Board of New York) and Building Owners (BOMA – Building Owners and Managers Association) are in support of Type B units. Conversely, United Spinal Association's members and other wheelchair users in New York City represented by the Mayor's Office for People with Disabilities require the greater access found in a Type A unit, particularly in the bathroom design.
Potential for Compromise?
The IBC's new accessibility reference standard, ANSI A117.1 – 2003 offers two bathroom options within the Type B dwelling unit: Option A & Option B. Option B bathroom offers more square footage and clear floor space for fixtures for a wheelchair user – but will it be enough to meet the needs of people with mobility impairments in New York City?
United Spinal's Architecture program set to answer that question by designing and constructing the Type B, Option B bathroom at United Spinal's facilities at Fort Totten, NY and asked several members to test the model to determine if it could be used.
With a small addition to the clear floor space available in front of the bathtub and additional reinforcements behind the walls for the future installation of a swing-up and vertical grab bar, most that tested the bathroom found that it met their needs.
What's next?
United Spinal will invite members of REBNY and BOMA to view the mock up of the Type B, Option B bathroom. Hopefully the various groups will agree that it is a solution for everyone and advocate that it be adopted in the new Building Code of New York City.
For more information on United Spinal Association's position on accessibility requirements in the version of the IBC being considered as a replacement to the City of New York Building Code, please contact me at 1-800-807-0191
United Spinal Association Works with NYC2012
By Linda Gutmann
Compliance Specialist
United Spinal Association was lucky to have been given the opportunity to work with NYC2012 – the committee that is behind the dream of bringing the Olympics to New York City. NYC2012's Olympic X Plan puts athletes at the center of the Games in a spacious and secure Olympic Village, directly across the river from the United Nations. The village will transform a former industrial site into a community of parks, housing, and sports facilities rising along the waterfront. After the Olympic Games, the Village will become a waterfront residential community, with apartments leased or sold in the private housing market. The Olympic amenities, including parks and recreational facilities, along with the site's central and scenic location, will help to make this an extremely desirable community. Universal design will be applied to all apartments, making them easily adaptable to meet the needs of all – including seniors and people with disabilities.
Because the Olympic Village will be designed as a fully accessible community, Paralympians will have the opportunity to stay within the Village, along with the Olympians. United Spinal Association provided technical advice to the NYC2012 architects on how to make dwelling units in the Olympic Village meet federal, state & city accessibility requirements. By referencing the most up-to-date International Building Code (IBC), the Village will comply with both city and federal accessibility standards. The Village will incorporate exterior access to all facilities, generous interior circulation spaces, clear and consistent signage, and large apartments that are close to dining halls and the transport mall for all athletes. All bathrooms will be designed to accommodate the needs of Paralympians during the 2012 games, in addition to people with disabilities and seniors thereafter.
Specifically, the architects had questions about the multi-level dwelling units. Although the multi-level dwelling units would not be used in the Paralympic Village, the dwelling units would eventually become residential units for sale and/or rent after the games. United Spinal Association suggested that the dwelling units include both adaptable bathrooms and widened stairs to accommodate the future installation of a platform lift for seniors and people with disabilities. Although the architects did not incorporate these details within the bid book, the adaptable bathrooms and widened stairs will be implemented in the Village if NYC is awarded the Olympic bid.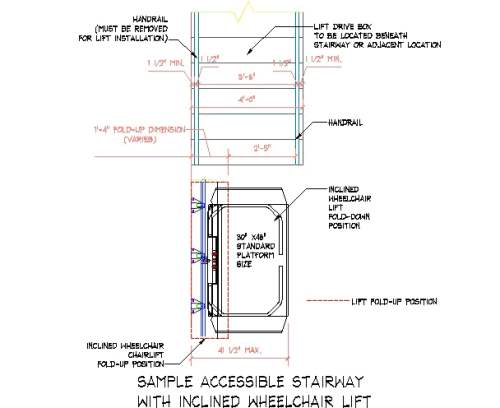 Between February and March, the International Olympic Committee (IOC) visited the five candidate cities, including Madrid, London, New York, Paris and Moscow, to hear the cities' bids. In February, when the IOC came to hear NYC's bid, United Spinal Association was asked to sit on one of the seventeen expert panels to answer any technical questions that the IOC had regarding the accessibility of the Olympic Village. The IOC reports its findings to the Olympic Evaluation Commission, who then generates a report in June. The host city of the 2012 summer Olympics will be officially elected during an IOC session being held in Singapore on July 6, 2005. Good luck NYC!
For more information on NYC's bid for the 2012 Summer Olympics, visit the NYC2012 website: www.nyc2012.com.
Technical Stuff
Question:
In New York State, can the water closet be located between the sink and the bathtub in a Type B dwelling unit bathroom? If this is permitted, does this presume that wall-to-floor or drop down grab bars can be installed in the future?
Answer:
This answer is specific to dwelling units located in R-2 and R-3 occupancies.
Section 1107.6.2.2.1 and Section 1107.6.3.1 of the Building Code of New York State require that at least one toilet and bathing facility in the dwelling unit or sleeping unit shall be constructed in accordance with the toilet and bathing facilities requirements of Section 1002.11 of ICC/ANSI A117.1
Section 1002.11 of ICC/ANSI A117.1-1998 refers to a Type A toilet and bathing facility. The water closet shall be positioned with a wall to the rear and one side. In other words in a Type A facility the water closet cannot be located between the lavatory and bathtub.
If additional toilet and bathing facilities are provided within the dwelling unit then Section 1003.11 of ICC/ANSI A117.1-1998 is applicable.
Type B toilet and bathing rooms can either be designed as Option A or Option B. Neither of these options required the water closet to be located in a corner, therefore the water closet can be located between the lavatory and the bathtub.
If the water closet is placed between the bathtub and the lavatory in a Type B facility (either Option A or Option B) then folding of floor mounted grab bars can be installed. Please refer to Section 1003.11.2 of ICC/ANSI-A117.1 and Sections 6.6 and 6.7 of the Fair Housing Act Design Manual.
At least one toilet and bathing facility is required to be Type A, according to Section 1002.11 of ICC/ANSI A117.1. Additional toilet and bathing facilities are required to comply with Section 1003.11.3 of ICC/ANSI A117.1 and can be designed as either Option A or Option B.
The most important thing is to read the scoping in the building code and the corresponding section(s) of the reference standard (ICC/ANSI).